Belkin Power Strip Surge Protector - 12 AC Multiple Outlets, Ethernet & Cable Protection - 8 ft Long Extension Cord for Home, Office, Travel, Computer Desktop & Charging Brick - 4000 Joules, White
Belkin Power Strip Surge Protector - 12 AC Multiple Outlets, Ethernet & Cable Protection - 8 ft Long Extension Cord for Home, Office, Travel, Computer Desktop & Charging Brick - 4000 Joules, White
Regular price
$40.99 USD
Sale price
$33.85 USD
Unit price
per
Sale
Sold out
Brand: Belkin
Color: White
Features:
Multi-Outlet Surge Protector Power Strip: Power everything on your desk with a single compact surge-protected extension cord. This reputable power cord offers 12 AC outlets with advanced surge protection for charging your computer, laptop, phone, printer and more. One charging station for a clutter-free table.
Ethernet, Phone Line, Coaxial Protection: Featuring a 1-in-2-out RJ11 telephone or fax protection to ensure continuous phone line connections. It also has coaxial cable protection to safeguard cable box and satellite links and an ethernet protection for uninterrupted network and internet connections.
Safeguard Your Devices and Appliances: The electric strip has a 4,000-Joule energy rating for a reliable power extension cord for your printers, broadband modems, or home theater systems. It secures your electronic devices from overload, short circuit, power spikes, lightning strikes, or fluctuations.
Compact, Heavy Duty, and Space-Saving: Each outlet has a safety slide lock to close unused sockets safeguarding you and your children. The widely spaced outlets give ample area to fit big plugs and charger bricks. The slender profile and its durable 8 ft / 2.4 meters long cord make it ideal for tight spaces.
Reliable Product and Service: Purchase with confidence as it is backed by a 2-year limited warranty and protected by dollar 250,000 Connected Equipment Warranty. The damage-resistant housing protects circuits from fire, impact, and rust. The mounting holes allows secure installation on walls, baseboards, or work benches.
Binding: Electronics
model number: BV112234-08
Part Number: BV112234-08
Details: Product Description The 12-outlet surge protector with 8 ft power cord and ethernet, cable/satellite. Safeguard your high-end, home-office equipment against devastating voltage fluctuations, surges, and spikes with the Belkin Advanced Surge Protector (BV112234-08). This unit provides protection for up to 12 separate electronic devices, as well as protecting Ethernet, coaxial, and telephone connections. Rated to withstand a surge of up to 4,000 joules, the Advanced Surge Protector is ideal for protecting computers, printers, modems, and other expensive electronic equipment against damage. The Belkin Advanced Surge Protector allows you to power up to 12 electrical devices using only one AC outlet. It features six large BlockSpace Outlets to accommodate large power adapters without blocking other outlets. Rated to withstand a power surge of up to 4,000 joules, this surge protector uses complete, three-line AC protection specifically designed to safeguard your high-end electronic devices. Oversized metal oxide varistors (MOVs) absorb excess electricity for increased protection. In addition, a Surge Protection Indicator lets you know your equipment is protected, while a Not-Grounded Indicator warns you when your outlet is not properly grounded. The Advanced Surge Protector features protection for Ethernet, coaxial, and telephone cables to ensure your data connections are working at peak performance. One-in, one-out Ethernet protection supports uninterrupted network and internet connections, while one-in, one-out coaxial protection safeguards cable and satellite connections for clear picture and sound. Additionally, one-in, two-out RJ11 telephone/fax protection ensures open and continuous phone-line connections. An 8-foot cord allows you to keep the Advanced Surge Protector in an unobtrusive location while still having plenty of room to reach your devices. The heavy-duty design ensures optimal power flow, while a low-profile plug fits easily in tight spaces and behind furniture. The large power switch features a recessed design, safeguarding against accidental shutdowns while making reboots easy. A durable, damage-resistant enclosure protects the Advanced Surge Protector against fire, impact, and rust, as well as preventing dents and scratches. For secure installation, mounting holes allow the protector to be easily attached to walls, baseboards, or furniture. Sliding safety covers keep unwanted debris out of unused plugs and protect your children from harm. A Power-Cord Manager located on the bottom of the surge protector lifts and locks to keep power cords neatly organized, ensuring they stay tangle-free. Belkin will repair or replace any equipment damaged by a surge, spike, or lightning strike while properly connected to the Advanced Surge Protector, up to $250,000. Any manufacturer defect in the surge protector is covered by a limited lifetime warranty. See complete warranty inside packaging for full details, limitations, and exclusions. Twelve-Outlet Surge Protector with 8-Foot Power Cord and Ethernet, Cable/Satellite, and Telephone Protection, and instructions. From the Manufacturer Safeguard your high-end, home-office equipment against devastating voltage fluctuations, surges, and spikes with the Belkin Advanced Surge Protector (BV112234-08). This unit provides protection for up to 12 separate electronic devices, as well as protecting Ethernet, coaxial, and telephone connections. Rated to withstand a surge of up to 4,000 joules, the Advanced Surge Protector is ideal for protecting computers, printers, modems, and other expensive electronic equipment against damage.Twelve-Outlet Surge Protector with 8-Foot Power Cord and Ethernet, Cable/Satellite, and Telephone ProtectionProtects up to twelve high-end electronic devices as well as Ethernet, coaxial, and phone lines.View larger.12 Outlets with 4,000 Joules of Surge ProtectionThe Belkin Advanced Surge Protector allows you to power up to 12 electrical devices using
EAN: 0014444737606
Package Dimensions: 15.4 x 7.1 x 1.7 inches
Languages: English
Share
View full details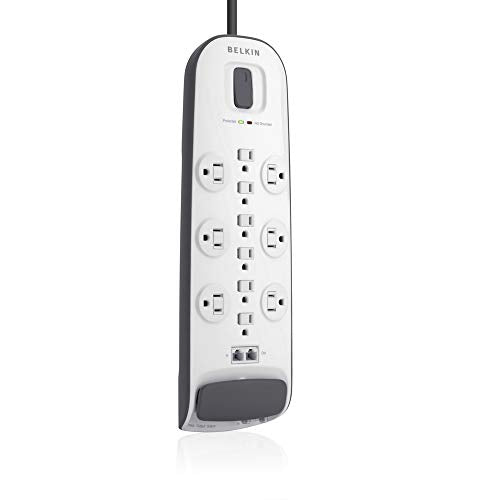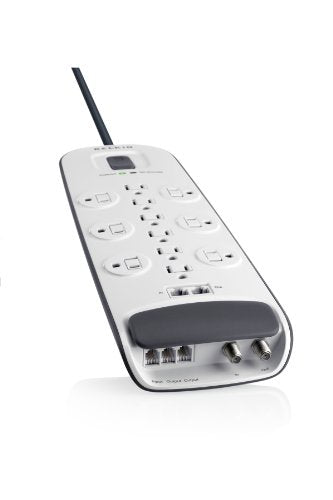 IT Support MSP is a participant in the Amazon Services LLC Associates Program, an affiliate advertising program designed to provide a means for sites to earn advertising fees by advertising and linking to store.itsupportmsp.com